It is our mission to help you achieve individual and organizational success in networking and business development and create long-term, authentic client relationships.
For over twenty years, Maraia & Associates has been helping professionals become rainmakers by focusing on the invaluable skill of building relationships.
As one of the first professional development coaches in the '90s, Mark Maraia honed his skills through thousands of hours of coaching. He shared his innovative approach to business development and long term success through relationship building in his two successful books on the art of rainmaking: Rainmaking Made Simple and Relationships are Everything.
Mark has identified the skills and practices needed to achieve rainmaking success.  He created a process and designed programs to share it with thousands of professionals. Mark has assembled a team of elite coaches who live the mission of empowering people to achieve their personal and professional goals by teaching them how to strategically cultivate authentic relationships within their professional network to grow their business.
I believe that if you want to change the world, the only way to do that is ONE RELATIONSHIP AT A TIME. I founded my own training and coaching firm two decades ago with the fervent belief that every relationship in your life is a classroom. If you pay attention to those relationships and view them as learning opportunities, you can learn enormous amounts about yourself and how to grow your business. And you can even derive fun and enjoyment from the process! Relationships are everything to me and that's why I operate with the belief that "everyone loves relationships – they just don't know it yet!" Indeed, rainmakers enjoy high levels of relationship literacy while the average professional does not.
Dear friends, colleagues, family and friends, Do you have a COVID 19 prevention strategy? We do and it's one we'll share in this newsletter. I'm not a doctor nor am I considered an expert in health and wellness so feel free to take what I write with a grain of...
Latest Episode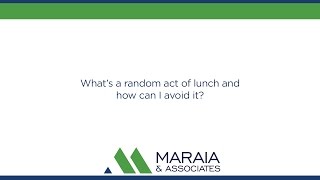 What\'s a random act of lunch and how can I avoid it?
What\'s a random act of lunch and how can I avoid it?

In business development, preparation is key. Without preparation, a marketing activity such as lunch can quickly become nothing more than a series of random events that doesn\'t generate any business. We call these random acts of lunch. With a little bit of preparation in advance, you can transform a random act of lunch into a successful business development opportunity.