The Team - Mark M. Maraia
Mark M. Maraia
Founder
You can e-mail Mark at mark@markmaraia.com or call him at his direct number, 303-791-1042.
Mark Maraia, an early pioneer in combining coaching with training in the legal profession, began his 19-year coaching career before any coaching schools had been formed. During his career, he has accumulated extensive coaching experience while working with thousands of lawyers and other professionals. That experience evolved into a unique and proven method (The Maraia Method®) that is highly effective for coaching lawyers and other professionals and is used by every member of the Maraia team. He authored the 37 page proprietary Maraia Coaching Manual which each coach in his organization is expected to study and internalize.
Maraia has written two books on business development: Rainmaking Made Simple: What Every Professional Must Know and Relationships Are Everything! – Growing Your Business One Relationship at a Time. Many lawyers, CMOs, and leaders in Am Law 200 firms consider his first book, Rainmaking Made Simple, to be the definitive "how to" desk book on business development. It has sold nearly 14,000 copies worldwide, mostly to professionals in the legal, accounting, and consulting industries. The ideas presented in Maraia's books have been field-tested many times over by thousands of attorneys and other professionals helping them develop relationship-building skills without compromising integrity or professional status. Maraia also authors an opt-in electronic newsletter with a circulation to over 4,000 subscribers in 70 countries.
Mark has energized and motivated hundreds of audiences throughout the world. One of his most recent keynote addresses was delivered to the Australasian Professional Services Marketing Association in Melbourne, Australia. Audience members rave about the practical ideas and insights he offers and the engaging ways they are presented. They find his energy contagious and his insights on law firm marketing invaluable.
Mark Maraia has been licensed to practice law in Colorado since 1983. He has worked both in private practice and as in house corporate counsel. Much of his private practice experience was spent litigating complex commercial matters for a small Denver-based securities boutique law firm. As in house counsel for a Denver-based brokerage firm, Mark had oversight responsibility for up to forty outside law firms.
Mark was an Adjunct Professor at the University of Denver, College of Law for 5 years. In that capacity, Mark designed and taught a skills course on client relations for second and third year law students.
In 1990 Mark founded his own practice development coaching firm, and now spends nearly all of his time coaching and developing the client relationship skills of lawyers throughout North America and Australia. Mark has personally coached thousands of lawyers and practice groups from numerous practice areas on how to develop the selling and networking skills needed to help them create and strengthen client relationships, both individually and in teams. While doing so, he has helped his clients achieve significant bottom line results.
Mark's prior experience as a practicing lawyer together with his involvement in individual and team selling efforts of law firms throughout North America has given him valuable insights on selling legal services and building client relationships. In addition, he is an avid student of how lawyer-client relationships are formed and deepened and, sadly, how they sometimes fail.
Mark is a 1983 graduate of The University of South Carolina, College of Law, and a 1980 graduate of Villanova University.
Dear friends, colleagues, family and friends, Do you have a COVID 19 prevention strategy? We do and it's one we'll share in this newsletter. I'm not a doctor nor am I considered an expert in health and wellness so feel free to take what I write with a grain of...
Latest Episode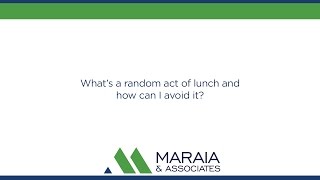 What\'s a random act of lunch and how can I avoid it?
What\'s a random act of lunch and how can I avoid it?

In business development, preparation is key. Without preparation, a marketing activity such as lunch can quickly become nothing more than a series of random events that doesn\'t generate any business. We call these random acts of lunch. With a little bit of preparation in advance, you can transform a random act of lunch into a successful business development opportunity.