Heidi S. Ryan
Business Lawyer
You can read Heidi Ryan by email at heidi.ryan@markmaraia.com or by phone at 201-321-2187.
As a business lawyer who specialized in Mergers and Acquisitions, Private Equity and Securities, Heidi spent many years working at law firms of all sizes and cultures, from a boutique law office to an AmLaw 200 Wall Street firm.  Having witnessed firsthand how a collaborative, skill-enhancing growth culture can lead a firm and its attorneys to greatness, Heidi now devotes herself to helping firms and attorneys create this culture for themselves.  As Chief Operating Officer of Maraia & Associates, Heidi is committed to our mission of helping attorneys achieve individual and organizational success in networking, business development and creating long-term, authentic client relationships.
Education
2003 Bachelor of Arts, Arts and Humanities, Colorado State University
1997 Doctor of Jurisprudence, Vanderbilt University School of Law
Professional Profile
1997-2001 Boult Cummings Conners & Berry (now Bradley Arant Boult Cummings)
2001-2004 Thacher Proffitt & Wood
Dear friends, colleagues, family and friends, Do you have a COVID 19 prevention strategy? We do and it's one we'll share in this newsletter. I'm not a doctor nor am I considered an expert in health and wellness so feel free to take what I write with a grain of...
Latest Episode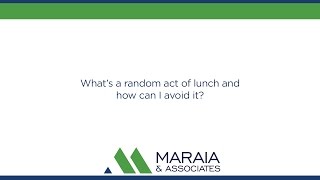 What\'s a random act of lunch and how can I avoid it?
What\'s a random act of lunch and how can I avoid it?

In business development, preparation is key. Without preparation, a marketing activity such as lunch can quickly become nothing more than a series of random events that doesn\'t generate any business. We call these random acts of lunch. With a little bit of preparation in advance, you can transform a random act of lunch into a successful business development opportunity.