Welcome to You Are The Cure.
You Are The Cure is a podcast series presented by Mark Maraia. The podcast will focus primarily on raising awareness of the value of improving and strengthening people's immune systems. Mark has been educating people about the value of our immune systems and helping them take control of their own health for over 20 years. Unfortunately, it took the COVID-19 virus pandemic to get people to start listening to him. But, as you'll see, we'll make the most of that opportunity by helping you through this situation and then building your immune system to it maximum power going forward.
About Mark's Journey is designed to give you all the information you need in support of Mark's podcast.  You'll find Mark's biography on this page so you can check him out to validate what he is saying.
You can see a tab for Mark's Musings, a blog which supports and expands on the topics discussed on the podcasts.
On Podcast Episodes you will find our Buzzsprout feed. There are also Show Notes from each podcast so you can check out any of the topics to see if you would like to dive back into a certain podcast for more information in case you missed it. Please like and subscribe wherever you listen to podcasts!
Here is a direct link to our Feed Partner, Buzzsprout.com, who keeps an archive of all of the podcasts so you can easily access any sessions you may have missed.
We will also have links on Learn More for all of the articles or reference materials that Mark may mention during a podcast.  There are also links to the webpages and other social media sites for all of the guests Mark has on his podcasts.
Please use the Share button to share with any of your friends, family or colleagues you think might benefit from Mark's information or who might enjoy joining Mark's audience.
There is also a Chat button at the bottom right of your screen that you can use to talk directly with Mark. Please note that because of his expanded schedule, you may have to leave your Chat message and he will get back to you within 24 hours at most.
And finally, if you would like to subscribe to our newsletter, Maraia Minutes, and to receive email and text reminders about what topics Mark will be talking about each week, please click below and sign up.  You'll be at the top of the list to know about all upcoming podcasts, publications and information.
Thanks for joining us on You Are The Cure.
Join us as me as I explore the ways we can all better understand immune systems and how you can boost and support your immune system so it keeps disease at bay. Our hypothesis is a healthy, fully functioning immune system doesn't get sick or it recovers quickly.  We will also be gaining an understanding of our healthcare system well enough to navigate past the red tape, biases and blindspots. This allows us to make better choices when interacting with doctors, insurance companies, & hospitals so you have a positive patient experience for you and your loved ones.
My gift to you,
Dear friends, colleagues, family and friends, Do you have a COVID 19 prevention strategy? We do and it's one we'll share in this newsletter. I'm not a doctor nor am I considered an expert in health and wellness so feel free to take what I write with a grain of...
Latest Episode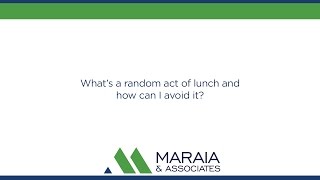 What\'s a random act of lunch and how can I avoid it?
What\'s a random act of lunch and how can I avoid it?

In business development, preparation is key. Without preparation, a marketing activity such as lunch can quickly become nothing more than a series of random events that doesn\'t generate any business. We call these random acts of lunch. With a little bit of preparation in advance, you can transform a random act of lunch into a successful business development opportunity.