Matt Rowe
Coach & Go To Market Strategist
You can e-mail Matt at matt.rowe@markmaraia.com or call him at his direct number, 303-974-0768.
Matt Rowe is a graduate of Industrial Organizational Psychology from Marquette University, past President of a manufacturing company by age twenty-three and Executive Vice President of a 200-person family owned distribution company selling 38,000 items to 19,000 hardware stores before the age of thirty. In 2010, Matt sold his niche printing business to follow his passion of entrepreneurship and understanding of how to create exceptional teams. In 2011, he went on to train the neuroscience of why we say yes by using Emotional Intelligence, principles of Neuro-Linguistic Programming and Marston's model of DiSC.
Matt has been featured in the Colorado Small Business Development Center Entrepreneur Spotlight and seen on Colorado's NBC and CBS News. He was also a past member of Vistage International a CEO's roundtable. Matt was named one of the top 25 Most Influential Young Professionals in Colorado and quoted in Harvard Business Review (HBR).
Matt is now an Entrepreneur,  Impact Investor and Go to Market(GTM) expert at Maraia and Associates leading professional service firms to execute and discover hidden revenue streams with work they love.
Matt is passionate about soil health and food and soil as medicine, to improve our daily lives and heal disease.  In 2017, Matt was diagnosed with MS (Multiple Sclerosis), which he began healing one year later. During his journey of healing the disease, he became a Certified Health Coach and became the host of the podcast "Identity of Health" which will launch in (July 2018). Matt took his experience of creating exceptional teams and leaders to helping recently diagnosed individuals develop the Identity of a survivor and the habits necessary to be one.
Matt is a father, husband, Ironman finisher and was an All-American Triathlete.
Dear friends, colleagues, family and friends, Do you have a COVID 19 prevention strategy? We do and it's one we'll share in this newsletter. I'm not a doctor nor am I considered an expert in health and wellness so feel free to take what I write with a grain of...
Latest Episode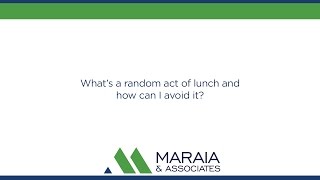 What\'s a random act of lunch and how can I avoid it?
What\'s a random act of lunch and how can I avoid it?

In business development, preparation is key. Without preparation, a marketing activity such as lunch can quickly become nothing more than a series of random events that doesn\'t generate any business. We call these random acts of lunch. With a little bit of preparation in advance, you can transform a random act of lunch into a successful business development opportunity.