At Maraia & Associates, we've been working in legal and accounting firms for the past 25 years and we've learned a thing or two about what makes a firm successful and what slows their growth. Using proven principles based on our own Maraia Method®, combined with the latest industry research, we will help you master the business relationship fundamentals of growing your firm.
Our consultants will help you:
Get the most out of your internal meetings to translate ideas into action
Build a strategy to productize services, creating a marketable product from concept to implementation
Implement a rainmaking mindset throughout the firm supported by systems for creating accountability and measuring success
Identify your ideal customers so you can target your marketing and networking to generate revenue both quickly and over the long-term
Identify and measure the traits of your key producers and create systems to develop the talent in your firm
Spot and close the gaps between your processes and goals
You don't arrive at a place without intentionally setting out to get there in some way first. Let us help you plot your course. We are passionate about creating innovative solutions and finding new strategies for businesses who share our desire to build long lasting, successful relationships one at a time.
Dear friends, colleagues, family and friends, Do you have a COVID 19 prevention strategy? We do and it's one we'll share in this newsletter. I'm not a doctor nor am I considered an expert in health and wellness so feel free to take what I write with a grain of...
Latest Episode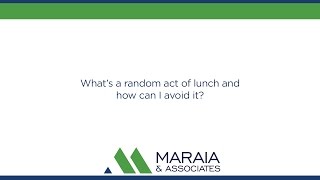 What\'s a random act of lunch and how can I avoid it?
What\'s a random act of lunch and how can I avoid it?

In business development, preparation is key. Without preparation, a marketing activity such as lunch can quickly become nothing more than a series of random events that doesn\'t generate any business. We call these random acts of lunch. With a little bit of preparation in advance, you can transform a random act of lunch into a successful business development opportunity.