Mark M. Maraia
Founder
You can e-mail Mark at mark@markmaraia.com or call him at his direct number, 303-791-1042.
Introducing Mark Maraia: Serial Entrepreneur, Network Multiplier, Health and Wellness Advocate
Mark began his professional journey as an attorney, and quickly launched one of the first training and coaching firms in the world in 1990. Since then, Mark has delivered hundreds of inspiring workshops and talks to professional groups including lawyers, accountants, consultants, brokers and social entrepreneurs in the health and wellness space. His philosophy emphasizes the importance of relationships, connecting network dots, and leveraging each entrepreneur's human network when it comes to business development.
Mark has been a prolific writer and thought leader for more than two decades, which includes the publishing of his online newsletter, The Maraia Minutes, growing to over 4,000 opt-in members. 2 business books that are often referred to as practical and actionable how-to "desk reference guides" on building relationships for professionals.
A serial entrepreneur, Mark Maraia has recently launched an impact publishing company that supports authors and children's books that close important knowledge gaps around health and wellness. He founded Carbon Neutral Investments LLC in 2013 to support companies and social entrepreneurs. Carbon Neutral Investments LLC invests in companies and products that make people and planet healthier by the sip or bite. Mark is a writer and advocate for medically tailored meals and has been active in organizations including Project Angel Heart, Slow Money, Slow Food, Food Bank of the Rockies, Bionutrient Food Association, and others that resonate with the idea that food is medicine. He is an advocate for helping wellness professionals see the link between healthy soil and healthy immune systems. Mark never misses the opportunity to remind gardeners and farmers that they are primary health care workers, and even coined the phrase "health care hero" to more accurately describe them. His purpose and that of his companies is to eventually guide people to this awareness.
Mark launched the Maraia Family Office which made an impact investment [donation] to Amigos For Christ in 2015, which includes a humanitarian trip to the Chinandega region for economic development in 19 different communities. Amigos for Christ has also utilized Mark's systems and infrastructure expertise in their operations.
Mark's current passion is helping social entrepreneurs and wellness professionals develop better systems and infrastructure in their operations. Mark and his team conduct gap analyses to identify new revenue streams that make their businesses more sustainable and deliver greater impact.
Mark is a 1983 graduate of The University of South Carolina, College of Law, and a 1980 graduate of Villanova University.
Dear friends, colleagues, family and friends, Do you have a COVID 19 prevention strategy? We do and it's one we'll share in this newsletter. I'm not a doctor nor am I considered an expert in health and wellness so feel free to take what I write with a grain of...
Latest Episode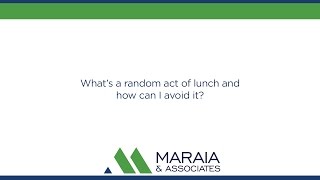 What\'s a random act of lunch and how can I avoid it?
What\'s a random act of lunch and how can I avoid it?

In business development, preparation is key. Without preparation, a marketing activity such as lunch can quickly become nothing more than a series of random events that doesn\'t generate any business. We call these random acts of lunch. With a little bit of preparation in advance, you can transform a random act of lunch into a successful business development opportunity.